---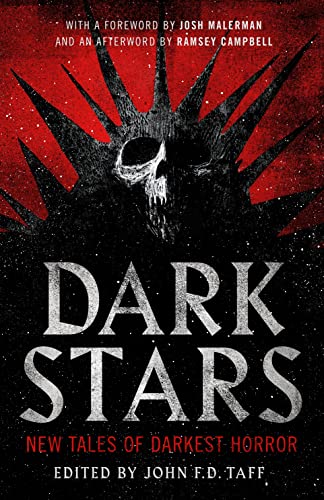 Book
Dark stars : new tales of darkest horror
Container of (work):: Attentionist
Copies
1 Total copies,
0
Copies are in
,
1
Copies are out
.
"Dark Stars, edited by John F.D. Taff, is a tribute to horror's longstanding short fiction legacy, featuring 12 terrifying original stories from today's most noteworthy authors, with an introduction by bestselling author Josh Malerman and an afterword by Ramsey Campbell. Created as an homage to the 1980 classic horror anthology, Dark Forces, edited by Kirby McCauley, this collection contains 12 original novelettes showcasing today's top horror talent. Dark Stars features all-new stories from award-winning authors and up-and-coming voices like Stephen Graham Jones, Priya Sharma, Usman T. Malik, Caroline Kepnes, and Alma Katsu, with seasoned author John F.D. Taff at the helm. An afterword from original Dark Forces contributor Ramsey Campbell is a poignant finale to this bone-chilling collection. Within these pages you'll find tales of dead men walking, an insidious secret summer fling, an island harboring unspeakable power, and a dark hallway that beckons. You'll encounter terrible monsters-both human and supernatural-and be forever changed. The stories in Dark Stars run the gamut from traditional to modern, from dark fantasy to neo-noir, from explorations of beloved horror tropes to the unknown-possibly unknowable-threats. It's all in here because it's all out there, now, in horror"-- Provided by publisher.
Title
Dark stars : new tales of darkest horror
Published
New York, NY : Nightfire, a Tom Doherty Associates Book, 2022.
Publication Desc
xvi, 345 pages ;